Field Service Management Software for Plumbing, HVAC and Electric
Service Point Pro is an all-in-one field service management software providing you customized solutions to manage your service business.
---
Request a Demo
Improve Your Customer Service and Efficiency
with Service Point Pro®
---
Customer Management
Service Point Pro® is intuitive and makes it easy to schedule and dispatch service calls.
Billing & Invoicing
We make it easy for technicians to take customer payments and provide invoices electronically.
Inventory Tracking
Consistent inventory tracking for better results and happy clients.
Quotes & Estimates
Customer estimates are easy with Service Point Pro®. Create custom options for customers to choose from and approve electronically.
Reporting
Monitoring your business has never been easier. Service Point Pro® is designed to help your business grow with custom reporting designed for your specific business needs.
Scheduling & Routing
Service Point Pro® is designed to meet the needs of your business from small to large. Our software offers superior functionality to keep your customers and technicians happy.
---
See How Service Point Pro® Can
Help Your Business
---
User-Focused Approach to Field Service Management
Running a service business means you need to have constant communication between your office staff and your technicians out in the field. Technology has made it easier to send work orders and appointments to technicians. However, not all software is created equal and you may have experienced frustrations with using one or more software programs. Service Point Pro® helps makes it easy with software that oversees duties, appointments, and beyond. It's created for you, by a company that understands the service industry, and works for you; helping you effectively manage your schedule and successfully conquer the day!
Learn More About Service Point Pro®
Customized Solutions
Just as each business is unique, so are the services and programs they require. Service Point Pro® offers customized software solutions to the plumbing, HVAC, and electrical industries, helping to maximize their productivity, security, and success! Meeting your every expectation and offering recommendations, Service Point Pro® will provide the software systems you need to smoothly operate your business and customize the software to meet your business needs.
View Product Features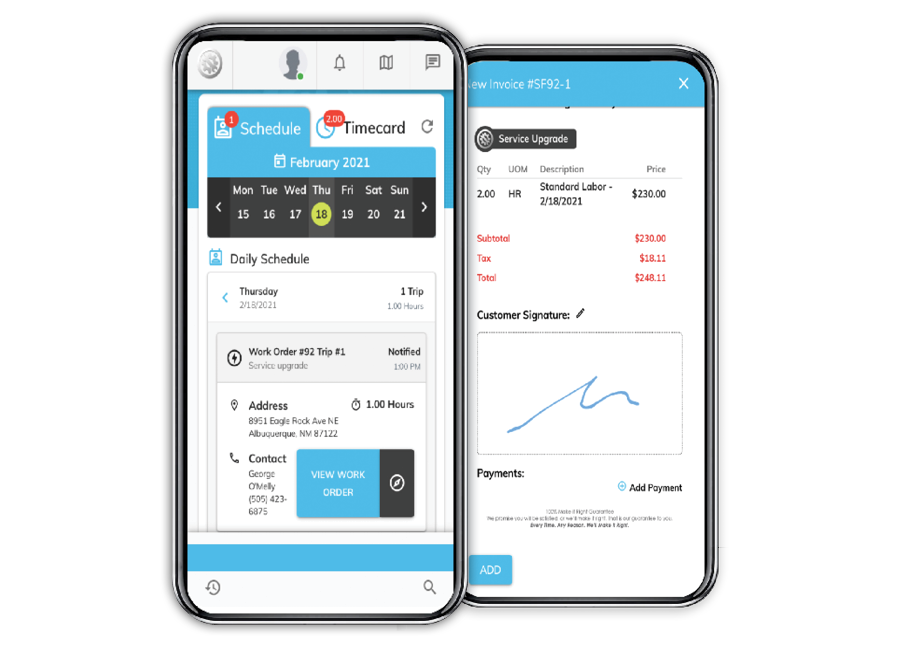 All-in-One Business Management
Service Point Pro® is revolutionizing field service productivity, providing technicians with everything they need all in one place! Services like dispatch, inventory, routing, and more are easy to access, helping you coordinate and manage your day. With software customized to plumbing, HVAC, and electrical industries, your business will be transformed by its increase in productivity!
Request a Demo
---
Stay in the loop with upcoming news, videos and product release announcements!
Leave us your email address below and we'll make sure you stay up to date with all things Service Point Pro®.
---
Ready to elevate your service business?
Embrace the power of Service Point Pro's cutting-edge
field management software. Experience Service Point Pro
with a demo today!